Do not abuse the freedom this page permits. You may add ideas to this article, but must create your own section, and must not infringe on other people's sections. This refers to the in-game achievements introduced in 1.3. A lot of your ideas may be based around content you have created on this wiki, or any already existing Terraria content you think deserves an achievement. Thanks for your time. -ZathusTheMageV
Zathus' Achievements
Edit
Already Existing Content
Edit
Mirror Mirror: Return to spawn using a teleportation item other than a Recall Potion. (Collector)
True Terrarian: Defeat every boss on Expert Mode. (Slayer)
The Alchemist: Create, and use every type of potion craftable. (Collector)
One Thousand Blows: Achieve 100 Defense through any means, be it potions, armor, and accessories. (Challenger)
Carpenter: Make 500 pieces of furniture. (Challenger)
Hidden In Plain Sight: Kill a Mimic. (Slayer).
Call of the Wild: Equip, and use every mount. (Challenger)
New Content
Edit
Last Stand: Defeat Sir Sampson The Third, tyrannical ruler of the Purple Army. (Slayer)
Owner of Worlds: Meet Overlord Redgit, creator of the universe as we know it. (Adventurer)
Servant of Light: Complete 5 of Overlord Redgit's quests.
Into Shadow: Delve into the Shallows, a twisted world of chaos and evil. (Adventurer)
Judgment Day: Cast Onethaci, sadist ruler of the Shallows, into the pits of oblivion. (Slayer)
Lost Martyr: Overpower a Shallows Conquest, where the demons of the Shallows come to avenge their fallen leader. (Slayer)
Truly Awesome: Use and equip every item that Sir Sampson drops, as part of the Sampson Awesome set. (Collector)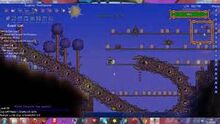 SmasherOAltArz's Achievements:
Edit
Smasher Of Altars: Smash 20 Demon/Crimson Altars. (Adventurer)
Release Me From My Curse!!!: Talk To The Old Man And Summon Skeletron. (Challenger)
Love For Mechs: Buy 100 Or More Wires From The Mechanic. (Collector)
Lord Of The Corruptible: Kill The Planet Devourer, A Lifesized Worm Who Creeps Around In The Corruption. (Slayer)
Lunar Faceplant: Triumph Over The Lunar Revenge, An Ancient Cultists' Life. (Challenger)

Feel free to create your own sections. You don't have to organize into old and new like I did, but it helps the eyes when reading. Make sure you create a Level 2 Heading like I did above. -ZathusTheMageV
Ad blocker interference detected!
Wikia is a free-to-use site that makes money from advertising. We have a modified experience for viewers using ad blockers

Wikia is not accessible if you've made further modifications. Remove the custom ad blocker rule(s) and the page will load as expected.